Introduction to the Curium Palace Hotel 4*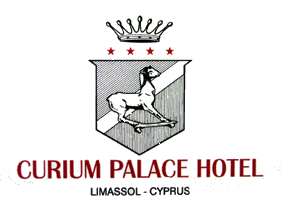 The Curium Palace Hotel has real atmosphere, situated at the very heart of Limassol, upon entering the Hotel you leave the busy city life behind and step into a world of peace and calm to tranquil gardens that form a veritable oasis around the pool.
Decorated with the old world elegance of the 1950's the Curium Palace Hotel is at a crossroads, on the one hand the intimate and on the other hand the modern comfort that awaits business and leisure travelers.
The Curium Palace Hotel is situated opposite the MunicipalGardens and the ArcheologicalMuseum, close to the main shopping area and a few minutes by foot from Limassol's beaches making it a charming hotel for relaxing and exploring the town.
Its 63 rooms and suites, all tastefully decorated making you feel instantly at home.
It is in the evening that the Curium Palace Hotel really comes into its own; in summer under the fragrant jasmine the veranda is the perfect place to relax and enjoy a coffee or a glass of champagne. In winter the bar, an eclectic mix of wood and leather radiates a captivating charm, the music is always good here as is the atmosphere and the menu.
Facilities
Rooms
63 well appointed guest rooms and suites: comfortable, regular rooms with twin or double beds; Junior Suites with a cosy seating area; Executive Suites with a separate, spacious seating and television area
Bathrooms with quality amenities
Air Conditioning (individually controlled)
Sizeable balcony or terrace
Satellite TV
Radio
DVD players in suites
Safety deposit box
Mini Bar
International direct dial telephone
Hairdryer
Trouser press (in suites)
Events
The Curium Palace Hotel offers you great service for the organizing of events.
Whether you are organizing a business event like a conference or a seminar, or organizing a fun event like a party or a Christening, or even an event of great importance like a Wedding , the Curium Palace Hotel is for you. In the center of Limassol, the Curium Palace Hotel gives a touch of history and character to all your event. To book your events now : operations@curiumpalacehotel.com.cy 
Internet Access
Wi-Fi access in all rooms (payable)
Wi-Fi access in all public areas is free of charge.
Air Conditioning
Full climate control
Guest Services Information
24hrs reception
Room service
Laundry and ironing service
Wine & Dine
Fine dining has long been a tradition at the Curium Palace Hotel…..
Amanjena Pool Bar
A sun splashed poolside terrace overlooking the hotel's lush garden and sparkling pool, provides a bright and breezy setting for a wholesome breakfast or a relaxed alfresco lunch.
The Clock Bar & The Jasmine Terrace
Offers an extensive cocktail menu, a wide selection of wines and Champagne and an assortment of light meals and canapés.
Come summer, under the fragrant jasmine, the terrace is the perfect place to relax and enjoy a coffee or a glass of Champagne, while in winter, in an eclectic mix of wood and leather, curl up in front of the fireplace with a glass of red in hand and twinkling ceiling lights overhead
Squish Restaurant
From the finest seafood to modern Mediterranean cuisine, enjoy our exquisite dishes in a sophisticated, yet relaxed atmosphere.
Scarlet Restaurant
With a taste for French fusion, a love of local delicacies and a penchant for the freshest ingredients, the menus are a scrumptious affair.
Lifts
2
Children's Facilities
Babysitting (on request)
Children's Paddling Pool
Sports & Leisure
Outdoor Swimming Pool
Jacuzzi
Children's Paddling Pool
Tennis Court
Gymnasium
Sauna
Massage (on request)
Conference Facilities
Two meeting rooms supported by audio-visual equipment, internet, black out drapes, etc; natural light bathes these comfortable spaces and their private terraces offer fresh air zones for coffee breaks
Prices
Period: 29/05/2014 – 31/05/2014
Single room: EUR 65.00
Double room: EUR 80.00
Half Board Supplement: EUR15.00
Contact Details
Curium Palace Hotel
Byron Street 11, 3105
Limassol
Cyprus
T; +357 25 891100
F: +357 25 891350
Our Website: www.curiumpalacehotel.com.cy
For reservations: info@curiumpalacehotel.com.cy
n.nicolaou@curiumpalacehotel.com.cy
Mobile 99511953
If you require any further clarification, do not hesitate to contact us.