Venue/Accommodation
Venue
The Cyprus University of Technology (CUT) is a newly established University, which was founded by law in 2003. The Cyprus University of Technology is based in the center of Limassol old city, the 2nd largest city of the Republic of Cyprus. CUT is a modern and innovative University with international recognition that promotes excellence in education and research in cutting-edge fields, aiming at the scientific, technological, cultural, social and economic upgrading of Cyprus. It is one of the three state universities that operate in the Republic of Cyprus and has 6 faculties and eleven academic departments, with 3,000 students in primary fields of science and technology, and about 700 academic and administrative staff.
The University uses restored buildings located, within walking distance, inside the heart of the old town of Limassol, as well as modern buildings being designed and equipped to better serve the university community.
The conference activities will take place at "Tassos Papadopoulos" building, which has 2 large amphitheaters, smaller teaching rooms and an impressive reception hall, close to the University square, where one can find the graphic Rectory Building and the University Library.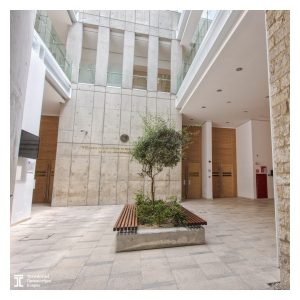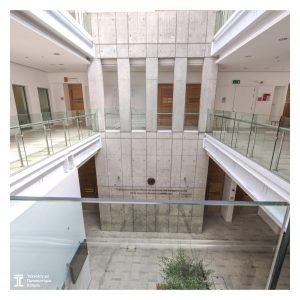 ACCOMMODATION & ROOM FEATURES/AMENITIES
1. Pefkos Hotel (3 stars, www.pefkoshotel.com )
Twin/Double room on bed & breakfast basis       (standard room)         €60.00 per night
Twin/Double room on bed & breakfast basis       (superior room)          €70.00 per night
Single room on bed & breakfast basis                   (standard room)          €54.00 per night
Single room on bed & breakfast basis                    (superior room)          €63.00 per night
2. Curium Palace Hotel (4 stars, www.curiumpalacehotel.com.cy )
Twin/Double room on bed & breakfast basis                                       €120.00 per night
Single room on bed & breakfast basis                                                     €90.00 per night
3. Ajax Hotel (4 stars, www.ajaxhotel.com )
Twin/Double room on bed & breakfast basis                                        €89.00 per night
Single room on bed & breakfast basis                                                     €81.00 per night
You can get these prices by contacting directly the hotels and referring to the POSTHARVEST PATHOLOGY CONFERENCE.
BUT it is advisable to explore e-means for special offers (Booking, Trivago etc.)
More options in the area of historical city center (Near the University):
The majority of the hotels in Limassol are located to the tourist area that is about 10-15 minutes away from the old city center. The road by the sea is about 15 km long, and there is a bus every 20 minutes that stops at Ayia Napa Bus Stop (bus #30), which is very close to the University Buildings. There is a great variety of hotels, from low budget to luxury ones. For hotels located to other places in the city area, buses must be checked according to location.
You could try hotels.com or booking.com to check availability and prices. Additionally, there is a number or Airbnb places to book. May is a touristic period for Cyprus so maybe not enough rooms in the same hotel will be available.
ABOUT CYPRUS
The Republic of Cyprus
Cyprus, the third largest island in the Mediterranean, is situated at the crossroad of Europe, Africa, and Asia. Since antiquity, its strategic geographic position has played an important role in the island's history.  The first prehistoric habitants were joined by the Greeks 3,500 years ago, who introduced and established their civilization, thus permanently instilling the island's Greek roots. A number of other civilizations left their mark on island's culture since then as Franks, Venetians, Ottomans, British, Phoenicians, and Assyrians. Cyprus is an independent country since 1960 and from 2004 a full member of the European Union.
ABOUT  LIMASSOL
Limassol (or Lemessos) is the island's second largest city with an urban population of more than 180,000 habitants. It is situated at the south part of the Cypriot coast and lies between two ancient cities: Amathous to the east and Kourion to the west. Both of them are two of the most spectacular archeological sites in Cyprus. Many important antiquities, Byzantine and Frankish monuments are found in the city of Limassol.
Today, Limassol is the island's main port, a thriving commercial center, the center of wine industry and a bustling holiday resort, famous for the unique high quality services and hospitality. The city offers a great variety of land and sea activities, new built marinas and a 15 km coastline part promenade. The surrounding Troodos Mountain is full of rural areas and charming villages, where old traditions and crafts are still practiced, along with a wide range of nature wild pathways. The famous "wine villages of Cyprus" are located in this area, producing the unique dessert wine of Commandaria.
The area of the old city center and around the University buildings, is continuously upgraded and converted into a more youthful and creative part of Limassol. Within walking distance from the conference venue, there is a wide variety of choices for dinning, shopping and nightlife. The medieval Castle, Anexartisias and Saripolou Street, the New Marina and the Old Port, are currently meeting points with choices to satisfy all kinds of visitors.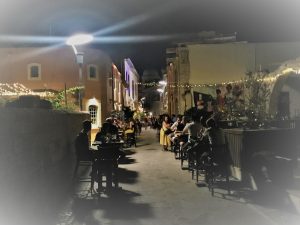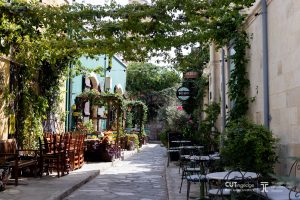 Municipal University Library                                          Kourion ancient theatre
Other Cities
Lefkosia (Nicosia) is the capital of the Republic of Cyprus. It is the islands biggest city with urban population of more than 240,000 habitants, and is located in the heart of the island. Nicosia is uniquely comprised of an ancient, walled city and a modern, fast-paced metropolis that is the epicenter of the island's business, government, administrative and commercial activity. Lefkosia provides a unique blending of the current trend with the tradition, in almost every aspect of everyday life. Its leisure and nightlife is a mixture of the popular and exclusive, with trendy bars that nestle amidst old, historically rich monuments.
Larnaka (Larnaca) is located at the east coast of the island. With a history of more than 4,000 years, Larnaka region is a tourist attraction, mixing traditional and cosmopolitan establishments. The town provides a great promenade, lined with palm trees and a sandy beach, with many facilities. Cyprus' main international airport is located in Larnaka. A few kilometers from Larnaka, Ammochostos region is located, where some of the most beautiful beaches of the island can be found (Agia Napa, Protaras).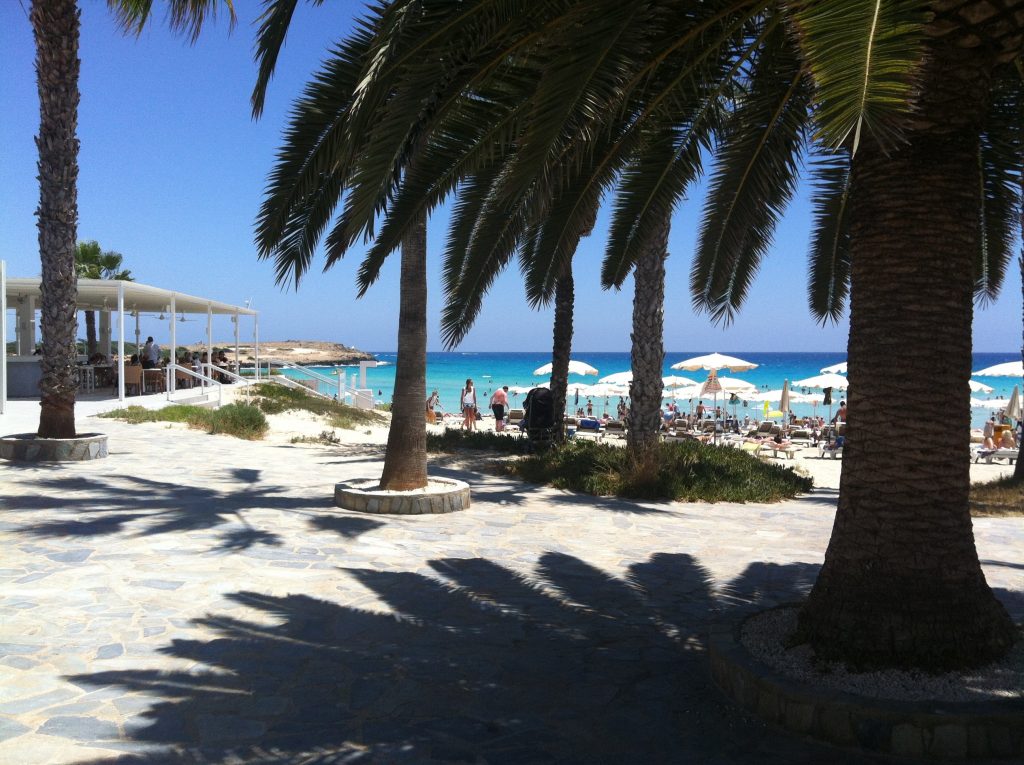 Agia Napa Beach
Pafos (Paphos) has the island's second airport, and is located at the west coast. The area is well known for the impressive medieval Castle, while a part of the town named "Kato Pafos" has been declared as a World Heritage Site by UNESCO. Just outside Pafos, one of island's most famous landmarks can be visited: Aphrodite's Rock, where according to Greek mythology, is the birthplace of the Goddess of Love and Beauty (Aphrodite), as she rose from the waves.
TRAVEL INFORMATION
Airports and Transportation
Cyprus has two airports, one located in Pafos (or Paphos), 50 km from Limassol and one located in Larnaca, 60 km from Limassol. There are flights with Ryan Air, Easy Jet and some other airlines that go through Pafos Airport, while all other major airlines fly to Larnaca Airport.
https://www.hermesairports.com/
Transportation from the Airport:
I. Shuttle Transfers from/to Larnaca or Paphos Airports: linking all the towns to the island's two airports of Larnaka (Larnaca) and Pafos (Paphos). There are buses right outside the airport (Limassol Airport Express) and it takes about 50 minutes from each airport to Limassol, and costs €9,00 for a single route. You can check timetables on the website:  http://enlimassolairportexpress.eu/
This facility has 1 and final stop in Limassol. From the station you should take a taxi to take you to your hotel. Taxi in Cyprus is a facility that you can book online (there is a series of companies), or via telephone (00357 25587777, 00357 25563563). Taxis might be at the stations as well.
In Cyprus there is no underground or train, so public transport is only limited to city buses  (http://en.limassolbuses.com/).
Website for Public Transport Service by Bus in Cyprus (Ministry of Transport, Communications and Works): http://motionbuscard.org.cy/.
II. Taxi Service Facilities
There are taxi services available, covering the entire island. This is a 24-hour service provided in all towns. Taxis can be booked by phone, or hired directly from the street, and are equipped with taximeters – the use of which is obligatory.
III. Private Car Rental
There are car rental facilities as well. Please be aware that Cyprus uses the left hand traffic (LHT) system (you drive from the right side) like in the UK.
Travel Information & Assistance
In case you need any assistance with your travel details please feel free to contact Mrs Christia Loullis, Groups Executive at ML Smart Events (Email: smartevents@cytanet.com.cy).
VISA REQUIREMENTS
VISA INFORMATION
https://mfa.gov.cy/visa-information.html
Categories of persons and countries whose nationals do not require a visa:
https://mfa.gov.cy/no-visa-requirement.html
Countries whose nationals are required to hold a visa to enter the Republic of Cyprus
https://mfa.gov.cy/requiring-visa-to-enter.html
Application process and requirements
Consular officers at the Diplomatic Mission (or Consulate) of the Republic of Cyprus where the visa application form is lodged, assess the applicant's purpose of travel and willingness to return to his/her home country.
Visa applicants should submit their visa application and supporting documents to the accredited, competent or most easily accessible Diplomatic Mission (or Consulate) of the Republic of Cyprus in their country of habitual residence (or elsewhere), or in the country that they intend to use as transit during their journey to Cyprus.
Passports must be valid for at least 3 months from the intended date of departure from Cyprus.
Valid proof of residence (visa/permanent residence card/passport) must be submitted.
Each applicant must duly complete and sign the visa application form. With his/her signature the applicant certifies that he/she is aware of the legal consequences of providing false or incomplete information in visa proceedings.
A passport–size photograph must be affixed on the visa application form.
The visa fee (consult relevant table) is non-refundable and should be paid upon submission of the application.
Invitation letter from the host-company/ firm/ associate in the Republic of Cyprus. Assumption of Responsibility to Host Form is always required. The form must be completed by the host and certified by a notary public.
Flight pre-bookings (round-trip) and hotel reservation or proof of other accommodation. The applicant is advised not to purchase his/her travel.
https://mfa.gov.cy/no-visa-requirement.html
FOR MORE UPDATED INFORMATION PLEASE CONTACT THE BELOW MENTIONED MINISTRY OR VISIT THEIR WEBSITE:
Ministry of Foreign Affairs
Presidential Palace Avenue
1447, Nicosia – Cyprus
Tel: +357 22 651000
Fax: +357 22 661881
Duty Officer: +357 99 660129 (strictly after office hours*)
Email: info@mfa.gov.cy
Website: http://www.mfa.gov.cy
http://www.mfa.gov.cy/mfa/mfa2016.nsf/mfa81_en/mfa81_en?OpenDocument
PRACTICAL INFO
In 2004 Cyprus joined the European Union as a full member and as from January 2008 Cyprus also adopted the Euro as its official currency.
Local Time
GMT +2
Spoken languages
Greek is the official language of Cyprus. The three main minority languages spoken in Cyprus are Armenian, Cypriot Arabic, and Kurbetcha. English is a popular foreign language spoken in the country.
Climate
Cyprus enjoys an intense Mediterranean climate, with long dry summers from mid–May to mid–October, and mild winters from December to February, which are separated by short autumn and spring seasons. Summer is a season of high temperatures with cloudless skies, but the sea breeze creates a pleasant atmosphere in the coastal areas. Isolated thunder showers are possible mainly over the mountains during early afternoons. The temperature in the open sea hovers above 22° C from June to November, climbing to 27° C in August.
Clothing and Activities

 

General information and suggestions on what to wear and do, according to the season, are provided below.

April-May

Days are pleasantly warm during this period, but can get a slightly chilly at nights. This is an excellent season for those who prefer to enjoy nature, as the countryside is green and flowers are in bloom.

The clothing advised is:

– Medium-weight and summer apparel.

– Light woollies or long-sleeved cotton for the evenings.

June-July-August

The warmest months of summer that are Ideal for swimming and all beach/water activities.

The clothing advised is:

– Very lightweight summer clothing.

Money & Currency

 

On January 01, 2008, the Republic of Cyprus introduced the Euro (€) as its official currency.

One Euro is divided into 100 cent. There are eight Euro coins: 1, 2, 5, 10, 20 and 50 cent, and 1 and 2 Euro. All banks operating in Cyprus offer foreign currency exchange services and quote the exchange rates of the Euro against all major foreign currencies daily. Foreign currency can also be exchanged at hotels. More detailed information concerning exchange rates can be obtained from the Central Bank of Cyprus.

Power Socket
Electricity in Cyprus is the same as the UK – 240 volts, with a 3-pin electrical plug socket. Therefore, you will need a power adapter to convert the EU plug to UK, which can be bought at local stores and costs around €3,00
Shop Opening Hours

 

Shop opening hours vary depending on their type and location and whether they are located in urban, tourist or rural areas. Generally, shops will open between 07:00 – 21:00 on Monday – Saturday, but this can vary an hour or two either way, depending on the type of shop and the area it is located in. On Sunday, opening times are later, typically around 11:00, and closing times vary from 14:00 – 22:00, again depending on the type of outlet and its area.
Food Specialties
Local dishes include kebabs (lamb or other meat skewered and roasted over a charcoal fire) and dolmas (vine leaves stuffed with minced meat and rice). Charcoal-grilled meat is generally very popular, as is fresh seafood. One of the best ways of enjoying Cypriot food is by ordering mezze (snacks), a large selection of a number of different local dishes. Fresh fruit is plentiful and cheap, and very sweet desserts such as baklava are widely available.
Drinks
Cyprus produces excellent wines, spirits and beers. Well known drinks are Zivania (a colourless drink produced from the distillation of a mixture of grape pomace and local dry wines made from Xynisteri and Mavro grapes), Commandaria (the oldest wine in the world) Coffee is Greek-style (short, strong and unfiltered), though cappuccino is available in most restaurants and bars. Traditional English tea can be bought everywhere.
DIAMOND Sponsor