Pafos: A World Cultural Heritage Site
Visits to:
Kourion Theatre
Paphos Mosaics
Paphos Old Harbour "Limanaki" (free time)
Paphos founded in 4th century B.C. by the last king of the city kingdom of Palaepaphos thanks to its natural harbour. It soon became the capital of Cyprus during the Hellenistic and Roman periods and is featured on the World Cultural Heritage List of UNESCO since 1980.
The participants' visiting point will be the former city kingdom of Kourion founded in 12th century BC. Here they will visit the Greco-Roman theatre with its breathtaking coastal view and the early Christian mosaics in the House of Eustolios and the Kourion Basilica.  The breathtaking coastline of Petra tou Romiou awaits the guests: the legendary birthplace of the goddess of fertility, Aphrodite. A stop here is without any doubt a must. This has been regarded as the gateway to Paphos for centuries!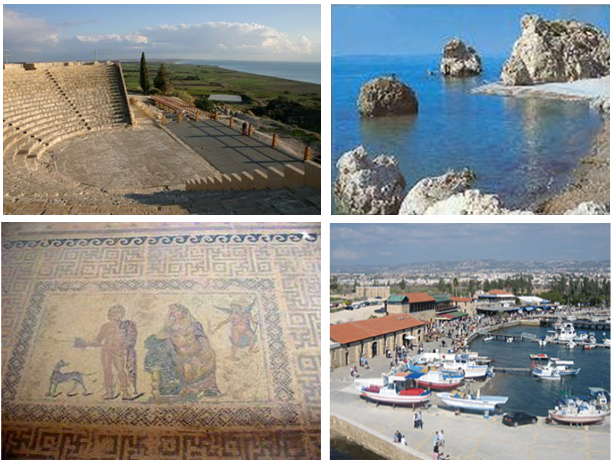 The visit will continue in Lemesos, where delegates will have the possibility to taste authentic Cypriot cusine in Karatello tavern.